This last Saturday and Sunday, Philadelphia hosted the annual
Art Star Craft Bazaar
. People who sew, people who paint, people who make art out of old teeth, all descended upon Penn's Landing for an explosive display of artistry. This was nothing like the craft fairs my Mom took me to as a kid - no macrame in sight! Just booth upon booth upon booth of pretty little things. There were so many precious finds; I decided to break them up over the next few days.
Today I am featuring my favorite prints from the day.
No. 5 - "Octopi" by Octopie Paperie
Octopie Paperie displayed this grey and soft yellow octopus with bright pink accents. Sadly, I didn't make a purchase. Because now I can't find them anywhere on the internet. Not even ETSY. Anyone out there that can help?
No. 4 - "Underwater Circus" Silkscreen by
Jamie Zollars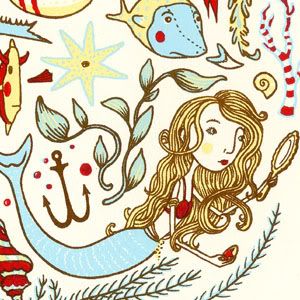 Jamie Zollars' images nearly always feature a young female heroine facing an emotional dilemma. Indeed, most of her work could be perceived as dark. But this colorful and light piece mirrors our fair mermaids vanity. It's just pretty, colorful and makes me smile.


No. 3 - "Pork is a nice sweet meat" by Spread The Love
Okay, I can't resist bacon. This sweet image and pastel color palette will blend in well in my increasingly feminine bedroom. The delectable square card is a perfect fit for my Ribba IKEA frame. And there is not much that fits in that frame. I personally feel that every gallery should feature a "Ribba Friendly" postcard section.

No. 2 - Octopus by
Popidiot
Hands down, best wearable art at the fair! These creative creatures, robots, skeletons, hula girls and monkeys adorn a variety of fitted tees in mens, womens and childrens sizes. The vintage design aesthetic gives them a warm cozy nostalgic buzz, while bringing a totally fresh dollop of hip and now. I snatched up two for my little disabled honey and I'm guessing he'll want more once he wears them out in Rittenhouse and gets a few jealous glances from the boys without cool GF's that buy wearable art. Boys and their robots.

No. 1 - "WAVEJUMPER" by Tugboat Printshop
Coolest prints ever! I wish I could buy the entire "Deep Blue Sea" series.
Tugboat Printshop
hand carves their design into wood blocks and uses them to create their crisp and vibrant prints. This one is by Paul Roden and Valerie Lueth.
This last photo features shows the carved wood block, and the print.
Tugboat Printshop gets my vote for the most beautiful prints of the day. And who got yours??