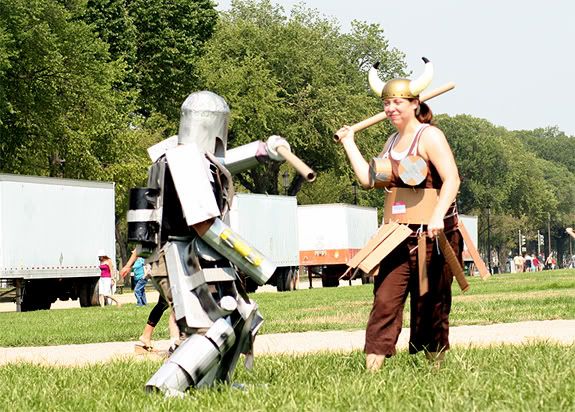 My geeky boy toy plans to hobble on his one leg down to the
Cardboard Tube Fighting League
this Saturday at 1:00 PM. You can join him and other like-minded geeks at the park across the street from the Philadelphia Museum of Art.

What:
Cardboard Tube Fighting League Tournament Philadelphia
Where:
Open grassy area across the street of the Philadelphia Museum of Art, (the Rocky Steps)
When:
Saturday, July 11th, 2009 1pm
Entry Fee:
Free, tubes provided.
What to bring:
Water, cardboard armor, costumes are highly encouraged. Prizes awarded for best cardboard costume and tournament winners. Tubes will be supplied.
What to expect:
Welts and possibly bruises. It is highly recommended that only children above the age of 5 participate.
You can find me and my friends at the much more elegant Bastille Day Festival at the Eastern State Penitentiary. Dozens of French revolutionaries, armed with muskets and cannon, and singing "La Marseilles," will storm the grim walls of "the Bastille" (Eastern State Penitentiary) and drag Marie Antoinette to a real, functioning guillotine, built for the occasion. Soooo much more civilized.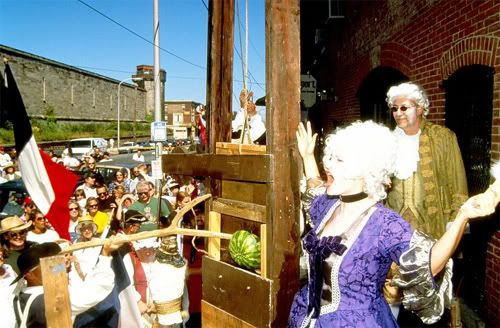 The block party in front of the prison commences at 5:30 and lasts into the night. After the storming, the party spills into the charming neighborhood of Fairmount, as restaurants and bars host wonderful French dinner specials and alfresco celebrations.
Which event will you be attending?