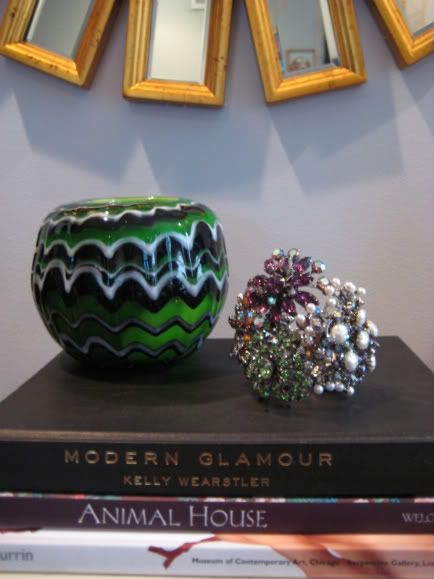 This weekend a friend and I finally made a trip to the
Philadelphia Premium Outlets
in Limerick, Pa. It was my first time out there, and it was certainly a successful outing as it yielded one of my most fabulous finds in recent memory.
The knockout
Tom Binns
cuff seen above (from the designer's
Faux Real
collection) was discovered at one of my favorite shopping destinations,
Last Call Neiman Marcus
. I could hardly believe my eyes when I saw this lovely sitting in the accessories case, and the shock continued as I discovered the markdown price. Being a total magpie, I have been coveting Binns' sparking necklaces and cuffs for several years, but never thought the opportunity would come along to have one of my own. But then, I guess I should never doubt the ability of Last Call to make my shopping dreams come true!
For those of you who love your designer goods and can't resist a great bargain, there is no store out there that beats Neiman Marcus' Last Call. I've been shopping at the Franklin Mills location for years (it's definitely more convenient to Center City) and have unearthed so many fantastic finds - a paillette-covered Missoni cocktail dress for $130, my
dream pair
of "Pesce" Christian Louboutin heels, a Lacroix bubble skirt with silk and tulle lining, the logo-print DVF wrap dress that Carrie wore on Season 3 of "Sex and the City"... the list goes on and on. The Limerick location is not as easy to get to, but I admit the selection and presentation were quite impressive on the day I was there. Still, I think Franklin Mills is the better choice as it is under the radar and not raided by tourists on a daily basis.
And so, another outlet trip, another treasure found. If you see me anytime soon in Philadelphia, it will be with this gigantic work of art strapped to my wrist. I plan to wear it all the time, with everything. Puts me in good company, as Binns is currently the
jeweler of choice
to our lovely and
fashionable First Lady
!