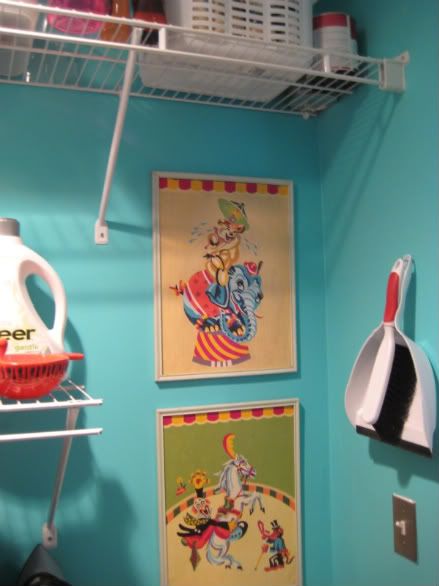 Hello everyone! It has been a while since I've posted (though you may have seen me Twittering) and I've missed you. What's been keeping me so busy? As usual... house projects galore! Now that spring has officially sprung, I am in the mood to spruce things up. There are many things on my to-do list - planting flowers, painting the fence, wallpapering the bathroom - but the task I decided to take on first was my tiny laundry room (check it out
HERE
).
I believe that paying attention to even the smallest, most utilitarian space in one's home can be tremendously rewarding. It perks me up every day to see the bright walls surrounding my washer and dryer, and makes doing laundry much less of a chore. Why not take a Saturday afternoon and, instead of sunning yourself in Rittenhouse Square, use the time to breathe new life into a sad corner of your house? Line the back of your
bookshelves
with a bold patterned paper, paint the interior of your linen closet a sunny hue, create a gallery-style picture wall in your hallway... none of these projects take much money, but will bring enjoyment every day!
So tell me, do you have any home improvement projects on your to-do list for spring? Please share!